Energiekontor has commemorated its 30th anniversary!
A solid business policy and a lot of experience in renewable energies: That's what Energiekontor has stood for more than 30 years.
Founded in Bremerhaven in 1990, the company is one of the pioneers in the industry and is today one of Germany's leading project developers. Its core business ranges from the planning and construction to the operational management of wind farms in Germany and abroad and was expanded in 2010 to include solar energy. In addition, Energiekontor operates wind and solar farms with a nominal output of almost 280 megawatts in its own portfolio. 
In addition to its headquarters in Bremen, Energiekontor has offices in Bremerhaven, Hagen im Bremischen, Aachen, Augsburg, Bernau bei Berlin and Potsdam. The company also has offices in England (Leeds), Scotland (Edinburgh, Glasgow), Portugal (Lisbon), USA (Austin/Texas and Rapid City/South Dakota) and France (Toulouse, Rouen).
The proud balance sheet since the company was founded: 127 realised wind farms and 12 solar parks with a total output of over 1 gigawatt (GW). 
The annual report for the 2020 financial year was recently published. You can download it here: Annual report 2020.
Wind and Solar Parks make the most important contribution to climate protection
Energiekontor has 30 years of experience in the project planning and operation of wind farms. The company also uses this expertise to project and operate photovoltaic plants. Energiekontor sees its wind and solar parks as an important contribution to climate protection, as no pollutants are released during electricity generation.The electricity produced through Energikontor's wind and solar parks covers the annual electricity consumption of a city the size of Hamburg.
Sustainable Energy Production is the ultimate goal
Energiekontor has set itself the task of expanding and using renewable energies from wind and solar power. In this respect, the company is making an important contribution to the vision of 100 percent renewable energies through this strategic positioning.
Energiekontor's business model consists of three mutually supporting areas:
project development in selected country markets and focus regions;
the operation of the Group's own wind and solar farms;
the optimisation of value creation through operational management, efficiency enhancement and innovation.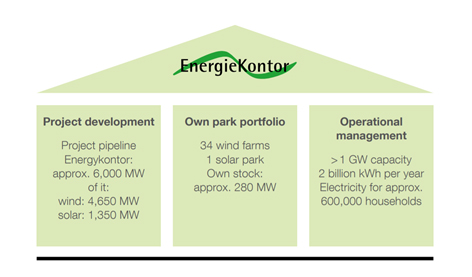 Operational development and innovation
Energiekontor is continuously working on innovation and developing new solutions, with maximum efficiency, in order to achieve harmonious and conciliatory interaction with the environment, landscape, fauna and flora, integrating a complete concept of Clean Energy.
Technical innovations, such as Rotor Blade Extension – RBE, are part of the strategy to improve and optimize the performance and yields of wind farms.
RBE is a product patented by Energiekontor to increase the rotor diameter, which has been successfully tested and used in practice for several years. The installation is carried out on the hanging blade, i.e. without dismantling the blade. This can significantly minimise crane costs and downtime. In the last three years, the improvement measures at the Company's own wind farms have already had a positive impact on the operating result.
What exactly is the RBE product?
RBE is an innovative modification product, currently available on the market, that increases wind turbine efficiency and provides AEP increase. 
RBE increases the length of rotor blades and consists of an additional modular segment, applied over the blade tip, which is already fixed on the rotor.
To understand the RBE concept in more detail, see our latest product presentation here.
Advantages of Installing RBE Bonus 1.3:
Safe operation due to reduced cut-out limit;
No additional noise impact;
Simplified installation process;
Significantly improved performance;
Minimal production losses due to short installation time;
Short return on investment (ROI) period (~3 years);
No influence on WTG safety aspects;
Further RBE prototypes (other types of turbines) in development for 9% AEP increase –MM82/RE40 and GE1.5sl/LM37.7.