By the summer of 2019, the RBE BONUS 1.3 installation was completed in 3 wind farms in Portugal, located in Serra do Marão (Seixinhos and Penedo Ruivo Wind Farm) and Serra de Montemuro (Lameira Wind Farm).
The installed power amounted to a total of 26wtg BONUS 1.3 turbines, including:
8 WTG at Seixinhos Wind Farm;
10 WTG at the Penedo Ruivo Wind Farm;
8 WTG at Lameira Wind Farm.
RBE Bonus 1.3 installation was successfully completed with the cooperation of several installation companies. Most of the RBE installations were carried out by the Portuguese company – GRW. The British company – Renewable Advice and Bladefence a company based in Finland had also been involved and contributed to the installation process.
Can the turbine lifetime be affected by the RBE Bonus 1.3 installation?
After the installation campaign of the Rotor Blade Extension for Penedo Ruivo wind farm, an extensive testing campaign was performed by Energiekontor in order to understand what the impact of the installation of the RBE would be on the turbine lifetime.
INEGI (Institute of Science and Innovation in Mechanical and Industrial Engineering), a renowned Portuguese research and technology organisation, performed these campaigns and provided the test results.
Two major tests were performed:
the measurement of the blade root loads;
fatigue loads onto the blade.
The main results of these tests can be found in the following link: RBE Installation: Tests performed by INEGI concerning fatigue loads Bonus 1.3.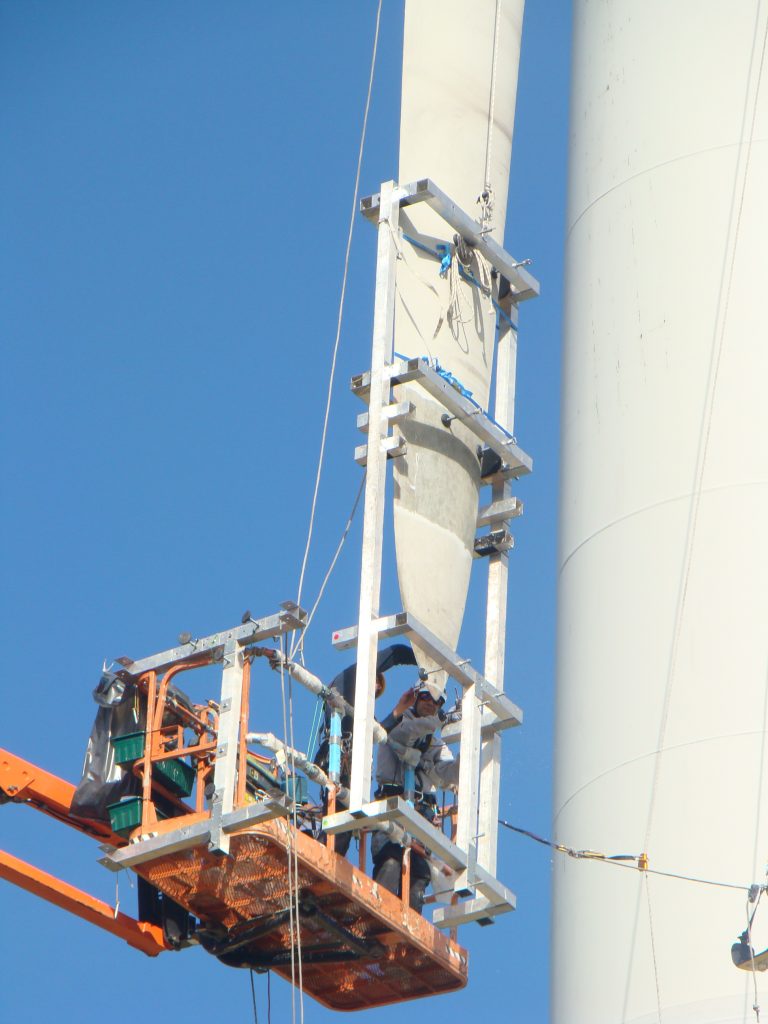 Advantages of Installing RBE Bonus 1.3:
Safe operation due to reduced cut-out limit;
No additional noise impact;
Simplified installation process;
Significantly improved performance;
Minimal production losses due to short installation time;
Short return on investment (ROI) period (~3 years);
No influence on WTG safety aspects;
Further RBE prototypes (other types of turbines) in development for 9% AEP increase –MM82/RE40 and GE1.5sl/LM37.7.
What exactly is the RBE product?
RBE is an innovative modification product that increases wind turbine efficiency and provides AEP increase. It is currently Patented & Certified by EnergieKontor.
RBE increases the length of rotor blades and consists of an additional modular segment, applied over the blade tip, which is already fixed on the rotor.
To understand the RBE concept in more detail, see our latest product presentation here.