Rotor Blade Extension (RBE) project was born out of a need to improve the energy production from Energiekontor.
Energiekontor's challenge was: How to improve the energy production on our own wind farms using a cost-efficient solution?
In 2009, the Institute for Wind Energy at the University of Applied Sciences Bremerhaven (fk­wind), presented to Energiekontor a solution; increasing the rotor diameter with an extension of the blade.
Since November 2009, Energiekontor has operated a prototype of a Bonus 1.0MW wind turbine, equipped with a Rotor Blade Extension, in the Debstedt wind farm, north of Bremerhaven, Germany.
There was a 7% increase in AEP (Annual Energy Production) was realised, according to the results provided by Energiekontor's Operations Department.
In 2011, Energiekontor requested a new prototype design from fk-­wind, for a turbine Bonus 1.3MW.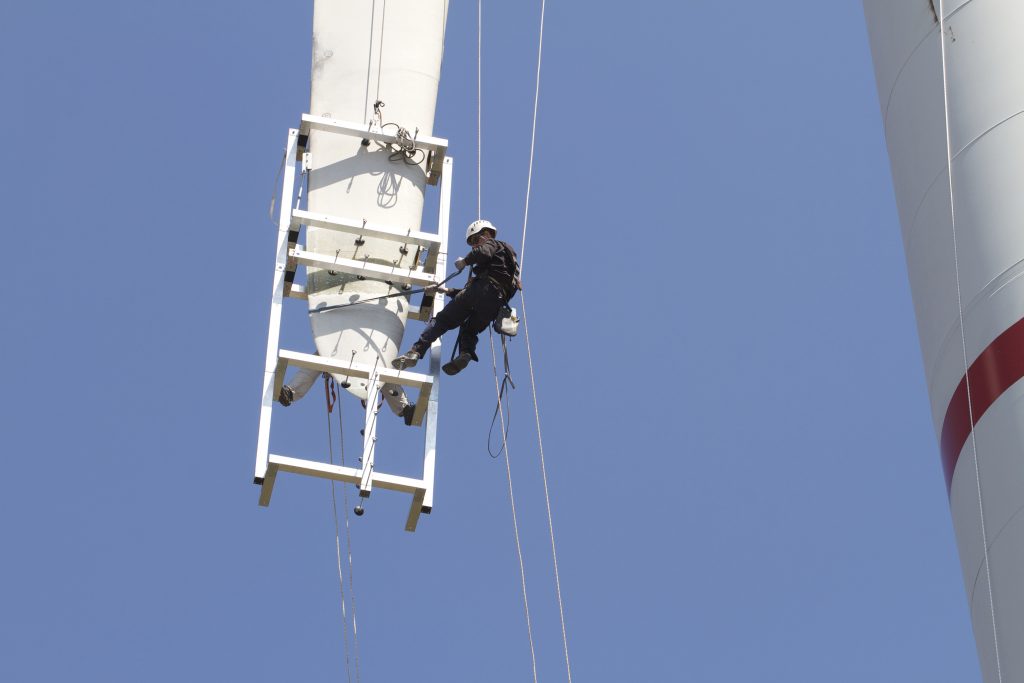 This new product is now installed on 3 wind farms in Portugal, located in Serra do Marão (Seixinhos and Penedo Ruivo Wind Farm) and Serra de Montemuro (Lameira Wind Farm). These Energiekontor wind farms are currently showing positive signs that the optimisation effort has been successful.
The installed power amounts to a total of 26wtg BONUS 1.3 turbines, including:
8 WTG at Seixinhos Wind Farm;
10 WTG at the Penedo Ruivo Wind Farm;
8 WTG at Lameira Wind Farm.
Involves the use of composite Blade Tip Extensions
Extends the length of your wind turbine blades
Installed in days, with limited downtime
Low effect on WTG lifecycle and components
Instant Power increase at relative wind speeds
Multi-agency collaboration led by Energiekontor
*P: power | ρ: air density | V: wind speed | Cp: power coefficient | Arotor : swept area of the turbine
Characteristics of available RBE products:
RBE Bonus 1.3MW
RBE length – 3,0 m
Extension of the blade – 1,5 m
Modified diameter – 65m
Rotor area increase – 8,6%
Weight/blade – 45Kg
Installation Process:
The installation process is done on a hanging blade, with adequate tools, specifically created to ensure a high quality on the attachment and project parameters.
RBE installation is done by certified installation companies, with previous experience on the installation of the RBE.
Installation Duration:
The installation takes 6 days per turbine, which is ready to continue operating immediately after the installation process ends.
Production:
RBE production is done by a certified manufacturer company, M&D Flugzeugbau, with high experience on glider production and composite products, such as the RBE.
Certification:
A certification process is done by DEWI OCC that ensures the entire project & design process is followed until the end of the monitoring phase.
Economic Approach:
Compared to a repowering wind farm project undertaking, the Rotor Blade Extension technology is a more economic and ecological approach to improving energy generation.
An increase of 7% of the total obtained power from the turbine reflects in a gain of almost 30% on the income of the company for each turbine.
For more information about the RBE and the installations at your wind farms, email us at energiekontor@rotorbladeextension.com or drop us a call to talk directly with us (+351 213 515 120).